Overview
This site hopefully gives a little insight into 184 Squadron with whom my Father flew with towards the end of the war. With the help of friends and families we can give a little insight in to the every day lives of these men, who fought this war and who we owe a great debt too.
Brief History
No. 83 (Composite) Group
# 15 Sector
121 Wing
Squadron Aircraft Code: BR
Assigned 30/12/1942
Squadron Callsign:
Eye Lash
Assigned on the 01/01/1943
"Newsboy"
Assigned on the 23/01/1943
Squadron C/O's
Sqn Ldr J Rose DFC
1/12/1942 - 05/08/1944
Sqn/Ldr J W Wilson DFC
05/08/1944 - 09/10/1944
Sqn/Ldr W B Edwards DFC
09/10/1944 - 10/11/1944
Sqn Ldr W Smith DFC
10/11/1944 - 10/09/1945


Formed at Colerne on the of 1st December 1942,to be a fighter bomber squadron . In May 1943 they were equipped with Hurricanes capable of carrying bombs and rockets. The squadron became part of the 2nd Tactical Air Force when it was formed in June 1943.
The Squadrons First Operation June 17th 1943.

"The C.O. F/Lt Kilpatrick, F/Lt Ruffhead and F/O Gross, made a dawn attack on shipping off Flushing. 609 escorted, and all returned safely. Results are difficult to assess, but three ships of between 500 and 800 tons were attacked with 60Ibs leads, and it is believed that all three were hit. Escorting Squadron say they saw a very bright flash and red glow in the target area and considered we are justified in claiming a cat.II. The C.O was seen to hit his target by F/lt Kilpatrick hit his. No one saw the result of either F/O Gross's or F/lt Ruffhead's attack."
Claim 1 500-600 ton Cat II
Claim 1 500-600 ton Cat III
Claim 1 500-600 ton Cat IV
In October 1943, four Spitfires were received for conversion training but on December 24th it was the Typhoons that replaced the Hurricanes.
First Operational sortie in the Typhoons April 28th 1944. A little cloud over the area. After the briefing eight aircraft took off to bomb a railway bridge over a canal near St. Jones on the Cherbourg peninsular. There was some cloud and the aircraft dived through the cloud to make an attack. Bombs were seen to land on the railway and near the bridge but there were no direct hits seen. A lot of light flak was bursting at the height the bombs were released, but no one was hit. after crossing the French coast F/S Vince No 2 to the C. O. informed him that he had one bomb which had hung up. Despite all the C.O's attempts to rid himself of such a dangerous cargo, the bomb refused to leave the aircraft. The C.O. landed last and just after touching down the bomb dropped off and bounced down the runway, bringing the hearts of all spectators into their mouths. The bomb did not explode so we still have our C.O. Early in the afternoon eight aircraft took off to bomb another bridge to the south of the morning's target. The target was obscured by 10/10 cloud so the aircraft led by the C.O. returned, jettisoning their bombs in the sea. F/O Jones had a hang up but after flying around for half a hour after the others had landed he managed to get rid of it. The Squadron retired for the evening thinking deeply on hang ups
It was soon after this that they converted to using 60lb rockets. And so this was the beginning of the use of Typhoons in the run up to the Normandy invasion and beyond.
The squadron moved to Europe on 27 June 1944 airfield B10 France. They continued to support the army throughout the push to Holland and finally Germany where the squadron arrived on 21 March 1945, becoming the first RAF squadron based on German soil.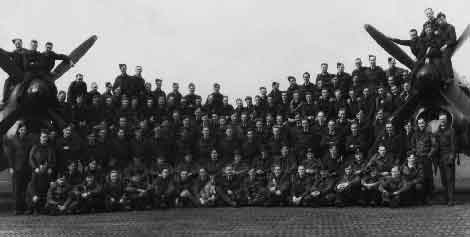 ORB's entry by Sqn/Ldr Smith.

"All up before 7 this morning getting things packed into the trucks. The warmest day we have had this year. F/Lt Hornell said cheerio to VOLKEL by a trip round in a Tempest. In the afternoon we left for our new strip B,100 South of GOCH. We had the honour to be the first R.A.F. Squadron to land on German soil. In the evening we all set coarse for EINDHOVEN for our party given by the Ground Crews."
Ground support was continued right up until the end of the war until 184 was disbanded on 10th September 1945.
Final entry in the operations book.

"Everyone rose early today and the Echelon moved off at 07.30 hours after a few parting words from the C.O. The air lift with the kit and the Adjutant left at 09.15 and after a little delay due to bad vis ability, the Squadron left their last German base at 11.00 hours, all being safely back together again in England for Tea."
RAF Bases
Colerne, Wiltshire 01/12/1942 Squadron Formed

Chilbolton, Hampshire 01/03/1943

Eastchurch, Kent 12/03/1943

Merston, Sussex 31/05/1943

Manston, Kent 12/06/1943

Kingsnorth, Kent 18/08/1943

Newchurch, Kent 18/08/1943

Snailwell, Suffolk 15/09/1943

Newchurch, Kent 17/09/1943

Detling, Kent 12/10/1943

Odiham, Hampshire 06/03/1944

Eastchurch, Kent 11/03/1944

Odiham, Hampshire 03/04/1944

Westhampnett, Sussex 20/05/1944

Holmsley South, Hampshire 17/06/1944

B.10, Plumetot, France 27/06/1944

B.5, Le Fresne Camilly, France 14/06/1944

B.24, St- Andre de L'Eure, France 28/08/1944

B.42, Beauvais Tille, France 02/08/1944

B.50, Vitry-en-Artois, France 04/09/1944

B.70, Antwerp Deurne Belgium 17/ 09/1944

B.80, Volkel, Holland 30/09/1944

Warmwell, Dorset 04/12/1944 RPC

B.100 Goch, Germany 21/03/1945 ( First German Airfield for a British Squadron )

B.110 Achmer, Germany11/04/1945

B.150, Hustedt, Germany 19/04/1945

Warmwell, Dorset 07/05/1945 RPC

B.164 Schleswig, Germany 28/05/1945

B.160 Kastrup, Denmark 02/08/1945

B.166 Flensberg, Germany 05/09/1945

Dunsfold, England 10/09/1945 Disbanded


The Hawker Hurricane Mk IID
Armed with two 40 mm AT cannons in a pod under each wing and a single Browning machine gun in each wing loaded with tracers for aiming purposes.
The first aircraft flew on 18 September 1941 and deliveries started in 1942. Serial built aircraft had additional armour for the pilot, radiator and engine, and were armed with a Rolls-Royce gun with 12 rounds, later changed to the 40 mm Vickers S gun with 15 rounds.
The outer wing attachments were strengthened so that 4G could be pulled at a weight of 8,540 lb
The Hawker Hurricane Mk IV
Hurricane IV entered production in mid-1943. A 1,650 hp Merlin 24 or 27 engine powered the Mk IV. It had a "universal" wing, which could be configured with various stores for ground attack. These included 40mm cannon packs, 8-rockets, or up to 500 pounds of bombs.
The Hawker Typhoon 1B
Construction: All Aluminum low wing monoplane,apart from tail rudder which was traditional cloth and dope.
Engine: One 2,180 - 2,260-h.p. Napier Sabre IIA or IIC twenty four cylinder II-type horizontally opposed liquid cooled piston engine, driving a three or four bladed constant-speed propeller. Fuel tanks in wings, with provision for under wing drop tanks.
Performance: Maximum speed 405 mph (652 km/h) at 18,000 ft (5 485 m) ; long-range cruising speed 254 mph (409 km/h) ; service ceiling 34,000 ft (10 365 m)
Dimensions: Wing span 41'7" (12.67m). Length 31'11" (9.74m).Height 15'4" 4.67m)
Operational armament: four 20mm cannons in wings, eight 601b (27-kg) high explosive rockets or two 5001b or 1,000lb (454-kg} bombs on under wing racks.
Weights: empty 8,8001b (3992kg); maximum take off weight 11,4001b (5171 kg)